212 Oops! Wrong church
Huge Thanksgiving services Wednesday evening and Thursday morning at Upper Arlington Lutheran Church, known around here as UALC. But spell checks won't tell you when the words are spelled right but in the wrong order. So yesterday's bulletin welcomed us to "Upper Lutheran Arlington Church." It got a good laugh when our pastor mentioned it--most of us hadn't even noticed.
This item has been cross posted at my other blog, Collecting my Thoughts.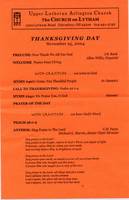 ULAC